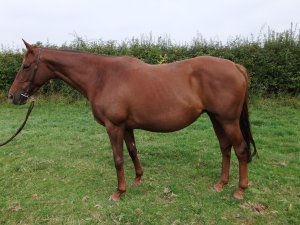 May Fox – DECEASED 2020
(2003) ch.m. by Zilzal x Folly Fox
Zilzal
1986
Nureyev
Northern Dancer
Special
French Charmer
Le Fabuleux
Bold Example
Folly Fox
1998
Alhijaz
Midyan
Nawara
Fox Oa (Fr)
French Friend
Foxinette
Did not go into training.
Half sister to Arch Folly (2002), placed twice at 3. Won one and placed 3 times at 4 and half sister to 2 multiple winners in Turkey: one is GENGHIS KHAN (2005) by Tobougg- winnings over £100,000; the other is ALLRIGHTS RESERVED (2008) (by Red Bishop or Silver Hawk)-winner at 3 over 10f.
Dam is  half sister toMr Gurhan who won approx £400,000 in Turkey.  Also half sister to FOXCROFT dam of FABIANA 2nd in German 1000 Guineas GR2 2009. 3rd in Grp3 race in Italy also at 3 and 3rd in Grp 3 race in Germany at 4.
4th in Prix Rothschild Grp1 at Deauville 1st Aug 2010, won by Goldikova, 2nd Music Show, 3rd Elusive Wave who beat Fabiana by a head.
STUD RECORD
2007 – MEGLIO ANCORA – ch.g. by Best of the Bests – Won Maiden Stakes for 2 yr olds (Class 4) at Newbury in May. At 3 2nd at Goodwood in June. At 4 placed once over hurdles and once on the flat.  At 5  Won 2 at Beverley & Wolverhampton & placed once.At 6 won one placed 3 times.  Winnings about £13,624.
2010 – ANNECDOTE – b.f. by Lucky Story – At 2 Won 1 at Salisbury, also WON JERSEY LILY FILLIES NURSERY CLASS 2, 7f & placed 3 times from 5 runs. At 3 won 1 at Newbury and Won the Sandringham Handicap L Fillies Class 1 at ROYAL ASCOT.   Won at GOODWOOD (Festival Meeting) Oak Tree Stakes GR3 7f.  4th at Doncaster Sceptre Stakes Gr3 7f.and 4th in L race one mile at Ascot.  At 4, 3rd in Chartwell Fillies Stakes,7f, Gr3 at Lingfield.  Winnings £104,886. SOLD IN JULY 2014 to U.S.A. won Noble Damsel Stakes GR3 at Belmont Park U.S.A. on Aug 13th. 1st prize approx. £85,000.  5th on 12.10.14 at Belmont Park in Gr3 Anthea Stakes.  4th in Gr2 at Santa Anita in January 2015. – total winnings £200.000 (approx). Now a broodmare in US – dam of two live foals
2012 – DOWN TO EARTH – c. by Aussie Rules.   SOLD – in training with Michael Bell. Ran 2 times as a 2 yr old.  At 3 won one, placed once.  Total winnings £3528. Died in an accident at 3.
2013 – SAMANTHA – b.f. by Black Sam Bellamy  – did not race – broodmare. Dam of b.f. by Fountain of Youth foaled 2018.  For sale or leasing
2014 – FRESH FOX – ch.f. by Sakhee's Secret  – ran once as 2 yr old – retired
2015 – FOLIES BERGERES – ch.f. by Champs Elysees  –  Ran twice at 2. Won 1st race at 3 and pl 3 times.  Ran twice at 4.  Total winnings £7,240 – Sold
2016 – SPRING RUN – ch.f. by Nathaniel. In training with J. Portman.  Ran once at 2.  Ran 6 times at 3 won 1, pl1.  Total winnings £4,544
Updated 11.2.21