All About Folly Farm
In 1992 Rosemary Pease came to live at Folly Farm and set up a small commercial Stud here. She already had two brood mares, Fox Oa and Balsamine, that had been purchased as yearlings soon after her son Jonathan Pease started training in France. They both proved to be very successful racehorses from his yard. After retirement from the racetrack, they each produced multiple winners, as did Exotic Forest who was bought as a 4 yr Old in 1995. The three mares bred 19 winners between them. The fourth foundation mare, Uplifting, was inherited from the late Mr Henry Seymour in 2004. She too has proved to be a star. All the other mares have been home bred.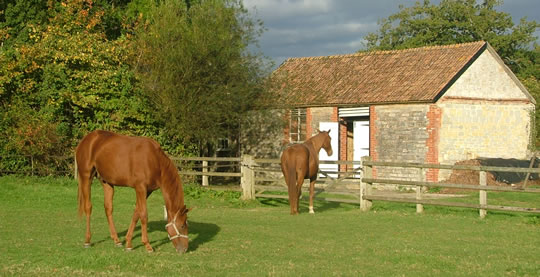 Obviously the objective is to breed winners, and surely the results speak for themselves:
The winners of over 180 races have been bred at Folly so far and the prize money, globally, is about £1,500,000. Most of this has been won on the flat, but about 8% has come from N.H. races. It is rare that the horses fail to get on to a racecourse. The ratio of winners to horses (that have ever run) now stands at about 75%.
In the past generally the colts have been sold as foals at Tattersalls or Doncaster and the fillies as yearlings. As there are no men working on the yard, the colts are sometimes gelded as yearlings to reduce the risk factor. The occasional filly has been sent into training before retiring to the Stud. Now, however, with all the economic uncertainty, the decision has been taken to sell, or lease most of the young stock privately. One of the advantages is that they will not go to unsuitable yards, either in Britain or abroad.
Anyone who is interested in seeing any of them is most welcome, if they will contact R. Pease or Sandra Morton first, to arrange it. There is nearly always the chance of forming partnerships in the horses and this has proved to be successful and great fun in the past. Potential partners, or those interested in forming a syndicate, may prefer to "lease" part, (anything from 1/8 upwards) or 100% of a horse in training, whereby they undertake to pay their share of the monthly expenses and, of course, receive their portion of the prize money – and of the excitement! A horse can always run in a leasor's colours, if these are registered. There have also been brood mares in partnership and this has been successful too.
The Stud has always had a reputation, in the business, for the young stock being particularly well handled by the girls who are extremely quiet, yet firm when necessary, and very experienced. Sometimes homebred horses in training who need a temporary break come back, if they still in Folly ownership.