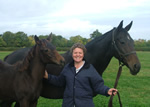 Sandra Morton, Stud Groom – has been in this position since the Stud first began in 1992. She had worked with horses all her life. In 2003 she won the TBA award for Stud Staff. She is highly experienced in all aspects of stud work and lives with her husband and son within 100 yards of the stable yard. She has prepared many foals and a few yearlings for the Tattersalls Sales and generally accompanies them to Newmarket.
Sandra was one of the two runners-up in 2011 in the Stud category of the Godolphin Stable & Stud Staff Awards. As Brough Scott said "this is the most prestigious event of its kind in the world" and we are all hugely proud of Sandra for whom it was so well deserved. Typically, she is the first to tell everyone that it resulted from the efforts, over the years, from the entire team, and this is equally true.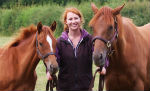 Emily Rawlins – A very experienced rider and has successfully broken in young stock and looked after horses all her working life.  She is also a very knowledgeable and highly valued team member who has been with working at Folly for eleven years.
Lucy Mann – who came to work here part time 5 years ago and has been "educated" by Sandra to a high level of horse management including working with foals.   She has proved to be an excellent pupil and is an invaluable team member also.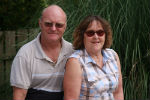 George Knight & Ginnie Withers – who live three miles away, take our foaling mares just prior to foaling and keep them till a day or two, afterwards. They are extremely experienced specialists in this aspect of stud work and have delivered literally hundreds of foals in their time.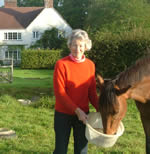 Rosemary Pease – Owner/Manager
Rosemary Pease has been around horses nearly all her life and her pedigree, on both sides for many generations is stiff with those in the racing world as owners, trainers, racing journalists and breeders.
Each of the over 180 Folly bred winners has been a huge excitement, but it could be claimed that her greatest breeding achievement has been in producing Jonathan Pease, her son, who was a trainer based in France, retired in 2016 and who was responsible for an Arc winner (Bago), a Breeders Cup race with Tikannen, two Breeders Cup turf miles with Spinning World and Karakontie, and over 20 other Group 1 winners.